Overview:
BroadAccess-300E™ is a compact FTTX MSAG designed for the delivery of residential Triple Play services and Carrier Ethernet business services. The platform offers a complete set of voice and IP broadband services over copper and fiber for small and medium service areas of up to 300 subscribers. BroadAccess-300E covers multiple functionalities including those of an MSAG, IP-DSLAM, GPON OLT and Carrier Ethernet Switch. It can be installed in remote street cabinets or inside buildings as an MDU/MTU unit. The system supports a wide range of service interfaces, including xDSL (ADSL2+, VDSL2, and SHDSL), GPON, Gigabit Ethernet over optical fiber and voice.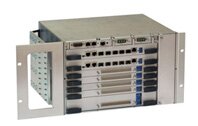 Features:
Integrated Multiple Functionalities
BroadAccess-300E integrates the functionalities of a VoIP Access Gateway, IP DSLAM, GPON OLT and Carrier Ethernet Access switch in a single platform.  With a series of replaceable plug-in cards, the system enables a simple and flexible adaptation to a wide range of network applications. It supports various indoor and outdoor deployment options including environmentally hardened street cabinets.
Advanced Architecture Optimized for high bandwidth applications
With a multiple 10GigE architecture and ultra-high backplane capacity, BroadAccess-300E provides an optimal solution for broadband applications such as HD IPTV and Carrier Ethernet business services. The product offers high bandwidth service interfaces (VDSL2, ADSL2+, GPON, Ethernet over fiber) and an Nx10GigE network interface, whilst implementing advanced features of QoS, Security and Multicast.
Integrated Resilient Ethernet Ring Transport
The system incorporates an integrated resilient 10Gigabit Ethernet ring transmission, providing an ideal solution for the delivery of high capacity triple play and carrier Ethernet services. In addition to its high speed, Ethernet transport ensures an enhanced resiliency with a sub 50 millisecond protection switchover time.
Compactness & High Density
BroadAccess-300E offers a compact solution for medium service areas of 100-300 subscribers. This makes it ideal solution for space confined locations in buildings and communication cabinets.
Modularity
BroadAccess-300E's modular architecture provides operators with the ability to adapt the system to the specific requirements of each service area, in terms of line capacity and types of services. The system supports any mix of services - from POTS to xDSL and IP over fiber. Furthermore, the system incorporates the same service cards as BroadAccess-1000E and can be integrated in the network together with BroadAccess-300E.
Carrier-Class
BroadAccess-300E ensures a continuous and reliable service with a high level of immunity to failures. The system is enhanced with redundant common cards, comprehensive testability, and advanced OAM and QoS features.
Technical Data:
Services:
ADSL2+
VDSL2
SHDSL/SHDSL.bis
Ethernet
GPON
POTS
ISDN
IP Network Interfaces:
NxGigE, Nx10GigE
IP/Ethernet:
Ethernet switching 802.1d
VLAN tagging 802.1q
VLAN stacking 802.1ad
VLAN priority 802.1p
IGMP snooping / proxy
Protocols: PPPoE, IPoE, PPPoA, IPoA
Voice Network Interface:   

NGN (H.248, SIP), PSTN (V5.2)
Transmission:
Resilient optical ring, NxGigE, 10GigE
Operating Temperature:
Indoor and outdoor environment
Management:
SNMP based
Client Server Architecture
XML Northbound interface
EMS:
BroadAccess-300E is managed by ClearAccess, a smart, comprehensive Element Management System (EMS) that offers efficient, cost-effective control of thousands of BroadAccess-300E systems. The system's advanced functionalities and effortless operation significantly reduce operational costs and improve service quality, thus assuring smooth network performance and maximizing the network's potential.