Overview:
ClearAccess Element Management System
ClearAccess is a smart, comprehensive EMS (Element Management System) that offers efficient, cost-effective control of hundreds of Teledata Networks Access Systems. The system's advanced functionalities and effortless operation significantly reduce operational costs and improve service quality, thus assuring smooth network performance and maximizing the network's potential.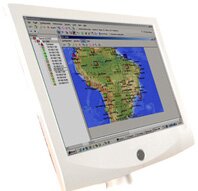 Features:
Multi-User Architecture
A client-server architecture provides central management with the flexibility to distribute management activities among different users and zones, ensuring productivity and efficiency.

Integrated Management
ClearAccess seamlessly integrates with the operator's network and OSS systems, featuring a TMF-based CORBA northbound interface to the OSS, SQL interface to the management system's database and SNMP interface to the Network Element.

Comprehensive Access Network Management
Complete management functionality for the entire access network, based on its ability to integrate any transmission or service technology into its standard cage.

Easy Operation
Effortless provisioning and supervision enable swift delivery of services and a high level of service assurance. The system includes an intuitive, user-friendly GUI that requires little training.

High Availability
ClearAccess architecture provides protection against hardware, software and network connectivity failures. In case of failures, the system recovers automatically, ensuring continuous and reliable operation. 
Configuration Management
ClearAccess offers a comprehensive view of network configuration and resource availability, providing superior provisioning of services from POTS to xDSL and IP with a click of the mouse. Features such as an intuitive GUI with custom network levels, custom user profiles, databases, configuration logs, bulk operations, software download and reports all ease the configuration process.
Fault Management
ClearAccess alerts the network manager with real-time pinpointed fault information to ensure immediate action, guaranteeing consistent QoS and customer satisfaction. Fault management features include alarm reports and databases, troubleshooting, color-coded alarm status, event logs, line testing and loopback.
Performance Management
ClearAccess continually evaluates the network's behavior over any period of time to assess its performance and maintain continuous QoS. Features such as comprehensive PM information collection and database, threshold values and traffic management ensure a high service level.
Security Management
ClearAccess provides flexible security mechanisms to build access levels and assign access privileges to network managers according to their region and job functions. Features such as customized service levels and controlled access are supported.